Taweelah seawater desalination plant with associated photovoltaic installation
909,000 m³ / day and 70 MW
United Arab Emirates
ACWA Power has contracted the consortium formed by ABENGOA and SEPCO III to build the Taweelah desalinated seawater production plant. The project is located in the coastal area of Taweelah, in Abu Dhabi.
Integration of the largest photovoltaic park into a desalination plant

Upon commissioning, it will become the world's largest capacity reverse osmosis desalination plant (909,000 m³ / day).
The plant is composed of the following main installations:
Open intake of seawater.
Seawater pumping station.
Pretreatment with DAF and DMGF.
Inverse osmosis.
Post-treatment
Emissary of brine by means of pipe buried in the seabed with diffusers.
Residual water treatment plant.
Connecting pipe with drinking water tanks (2.5 km long).
Drinking water storage tanks.
The desalination plant has two independent lines for pretreatment, osmosis and post-treatment.
This project marks a milestone, as it has two associated 41.9 MW and 27.95 MW photovoltaic plants, which allow electricity to be generated to supply electricity consumption and thus reduce the plant's energy expenditure, which will, in turn, decrease the price of m³ of generated water.
IDOM is developing basic and detailed engineering for SEPCOIII, as well as the integration of engineering developed by the other partners of the consortium.
Watch video 2021 – Virtual aerial view of the plant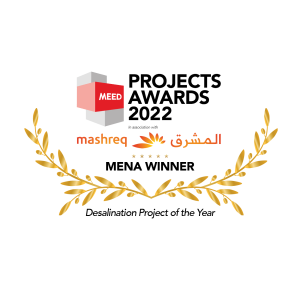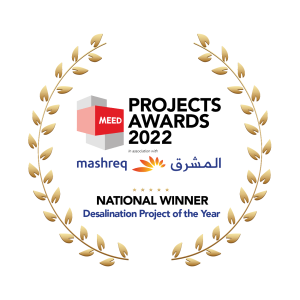 CLIENT:
SEPCOIII

AWARDS:
Desalination Project of the Year 2022 in MENA
Desalination Project of the Year 2022 in UAE

SCOPE:
Basic Engineering