Industrial Pump & Valves Trade Show
Presentation on Hydrogen as an opportunity for the Industry
At the Industrial Pump & Valves trade show, held in October 2021 at the Bilbao Exhibition Center, presentations were given on industrial trends derived from new energy technologies such as renewable energies, the circular economy and hydrogen. On behalf of IDOM, Juan Carlos Latasa López, Technical Director of the Oil & Gas Area gave his presentation on "Hydrogen. Opportunities for the Industry. Challenges and opportunities in engineering projects, towards a change of cycle".
The presentation highlighted the plans of the European Union, the United States Government and the Chinese Government, among others, on how to reduce the carbon footprint and the impact of the greenhouse effect. A realistic version of the implementation of the different mobility and ecological energy systems was presented, with the goal of achieving the objectives of reducing the global temperature increase in 2030 and 2050. Juan Carlos spoke about the slowness of the measures currently being used and stressed the need for a firm framework at the regulatory and institutional level to impose the implementation the new measures mentioned above.
He also pointed out that the need to reduce the carbon footprint can be seen as a great opportunity for "new industrialization" and will lead to an energy era in which new technologies, not yet mature, will coexist with current technologies, which will involve making the necessary adjustments to increase efficiency and capture CO2 emissions, while contributing to lowering the carbon footprint.
November 11, 2021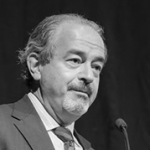 Juan Carlos Latasa, Industrial Engineer, is a specialist in energy processes, with over 30 years of experience in the design of critical equipment and process systems in refining, petrochemical and energy plants. He regularly participates in international Energy and Oil & Gas forums, such as GASTECH, World Heavy Oil Congress, BEC, etc. He is an elected member of the Society of Petroleum Engineers International and has been the Technical Director of the Oil & Gas Division of IDOM since 2010.